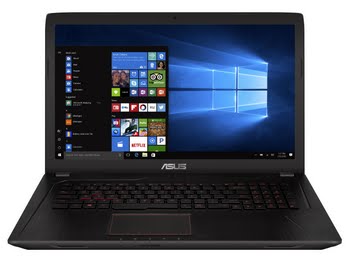 ASUS FX753 packs the latest 7th-gen Intel® processor, Windows 10, and NVIDIA® GeForce® GTX 1050Ti graphics in a compact and lightweight design. FX753 keeps you productive and entertained wherever you are. Excellent Performance ASUS FX753 delivers excellent performance thanks to its ...
Alle ASUS FX753VD-GC171T 2.5GHz i5-7300HQ 17.3" 1920 x 1080Pixels Zwart Notebook prijzen vergelijken
Reviews
Voeg een review toe!
Specificaties
Laagste prijs
€999,00
3G
Nee
4G
Nee
AC-adapter ingangsspanning
100 - 240
AC-adapter, uitgangsspanning
19
AC-adapter, uitgangsstroom
6.32
AC-adapter, vermogen
120
AC-adapterfrequentie
50/60
ARK ID processor
97456
Aansluiting voor netstroomadapter
Ja
Aantal DisplayPorts
0
Aantal Ethernet LAN (RJ-45)-poorten
1
Aantal HDMI-poorten
1
Aantal IEEE 1394-/Firewire-poorten
0
Aantal Thunderbolt 2 poorten
0
Aantal Thunderbolt 3-poorten
0
Aantal USB 2.0-poorten
2
Aantal cellen in de batterij
4
Aantal eSATA-poorten
0
Aantal geïnstalleerde SSD's
1
Aantal micro-USB 3.0-poorten
0
Aantal poorten USB 3.0 (3.1 Gen 1) Type A
3
Aantal poorten USB 3.0 (3.1 Gen 1) Type C
1
Aantal poorten USB 3.1 (3.1 Gen 2) Type A
0
Aantal poorten USB 3.1 (3.1 Gen 2) Type C
0
Aantal processorkernen
4
Aanwijsapparaat
Touchpad
Accu/Batterij capaciteit (Watt uur)
48
Aparte grafische adapter
Ja
Architectuur besturingssysteem
64-bit
Audiosysteem
SonicMaster
Basisfrequentie ingebouwde grafische adapter
350
Basisstationaansluiting
Nee
Beeldoppervlakte
Matt
Beeldschermdiagonaal
17.3
Beeldverhouding
16:9
Bluetooth
Ja
Bluetooth-versie
4.1
Breedte
418
Bus type
DMI3
CPU configuratie (max)
1
Camera voorzijde
Ja
Codenaam processor
Kaby Lake
Conflictvrije processor
Ja
DVI-poort
Nee
Diepte
255
Discreet grafische adapter model
NVIDIA GeForce GTX 1050
ECC ondersteund door processor
Nee
Enhanced Intel SpeedStep Technology
Ja
Ethernet LAN
Ja
Ethernet LAN, data-overdrachtsnelheden
10
100
1000
Execute Disable Bit
Ja
Frequentie van processor
2.5
Full-size toetsenbord
Ja
Geheugen form factor
SO-DIMM
Geheugenslots
2x SO-DIMM
Gewicht
2800
Geïntegreerde geheugenkaartlezer
Ja
Grafische geheugen
2
Graphics on-board -adapter dynamische frequentie (max)
1000
HD type
Full HD
Harde schijf, omvang
2.5
Harde schijf-interface
SATA
Het aantal geïnstalleerde harde schijven
1
Hoeveelheid Thunderbolt ports
0
Hoogte
30
Idle States
Ja
InTru™ 3D Technology
Ja
Inclusief besturingssysteem
Windows 10
Ingebouwde grafische adapter
Ja
Ingebouwde microfoon
Ja
Ingebouwde opties beschikbaar
Nee
Intel® 64
Ja
Intel® AES New Instructions (Intel® AES-NI)
Ja
Intel® Clear Video HD Technology (Intel® CVT HD)
Ja
Intel® Clear Video-technologie
Ja
Intel® Enhanced Halt State
Ja
Intel® Flex Memory Access
Ja
Intel® Hyper Threading Technology (Intel® HT Technology)
Nee
Intel® Identity Protection Technology (Intel® IPT)
Ja
Intel® My WiFi Technology (Intel® MWT)
Ja
Intel® OS Guard
Ja
Intel® Quick Sync Video Technology
Ja
Intel® Secure Key
Ja
Intel® Smart Response Technology
Ja
Intel® Software Guard Extensions (Intel® SGX)
Ja
Intel® Stable Image Platform Program (SIPP)
Nee
Intel® TSX-NI
Ja
Intel® Trusted Execution Technology
Nee
Intel® Turbo Boost Technology
2.0
Intel® VT-x with Extended Page Tables (EPT)
Ja
Intel® Virtualization Technology (VT-x)
Ja
Intel® Virtualization Technology for Directed I/O (VT-d)
Ja
Intel® Wireless Display (Intel® WiDi)
Ja
Intern geheugen
8
Intern geheugentype
DDR4-SDRAM
Kleur van het product
Black
Kloksnelheid geheugen
2133
LED backlight
Ja
Maximaal aantal PCI Express-lijnen
16
Maximaal geheugen ingebouwde grafische adapter
64
Maximaal intern geheugen (64-bit)
32
Maximale turbofrequentie van processor
3.5
Maximum intern geheugen
32
Merk
ASUS
Micro-USB 2.0 ports hoeveelheid
0
Mini DisplayPort kwantiteit
1
Numeriek toetsenblok
Ja
On-board grafische adapter DirectX-versie
12.0
On-board grafische adapter ID
0x591B
On-board grafische adapter OpenGL versie
4.4
On-board graphics adapter model
Intel HD Graphics 630
Ondersteunde instructie sets
AVX 2.0
SSE4.1
SSE4.2
Opslagcapaciteit harde schijf
1000
Opslagmedia
HDD+SSD
PCI Express configuraties
1x16
1x8+2x4
2x8
PCI Express slots versie
3.0
Processor aantal threads
4
Processor cache
6
Processor lithografie
14
Processor operating modes
64-bit
Processorfamilie
Intel Core i5-7xxx
Processormodel
i5-7300HQ
Processorserie
Intel Core i5-700 Desktop Series
Producttype
Notebook
Resolutie
1920 x 1080
Rotatiesnelheid harde schijf
5400
SSD-vormfactor
M.2
Solid State Drive (SSD) capaciteit
128
Solid State Drive (SSD) interfaces
Serial ATA III
Soort optische drive
Nee
Soort paneel
IPS
Specifiek grafisch geheugentype
GDDR5
Systeembus
8
Thermal Design Power (TDP)
45
Thermal Monitoring Technologies
Ja
Tjunction
100
Totale opslagcapaciteit
1128
Touchscreen
Nee
VGA (D-Sub)poort(en)
0
Verpakkingsgrootte processor
42 x 28
Vormfactor
Clamshell
Wi-Fi
Ja
Wi-Fi-standaarden
IEEE 802.11ac
Windows-toetsen
Ja
eSATA/USB 2.0 ports quantity
0
eSATA/USB 3.0 ports hoeveelheid
0
Product
FX753VD-GC171T
Code
90NB0DM3-M03260
EAN / GTIN
4712900764192
Informatiebron
"AS IS" by Icecat.biz