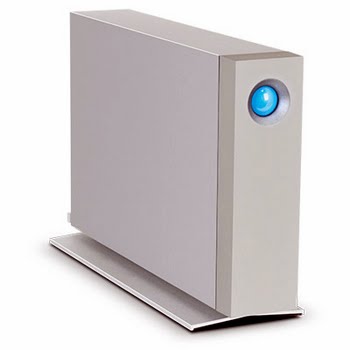 Proven Design, Redefined. With SSD Speed Potential. - Professional speeds of up to 220MB/s - USB 3.0 and dual Thunderbolt 2 ports for universal compatibility - Aluminum unibody for reduced noise and vibration - Boost speeds up to 1150MB/s with d2 SSD Upgrade With the new d2, LaCie again ...
Alle LaCie d2 3.0 (3.1 Gen 1) 6000GB Zilver prijzen vergelijken
Reviews
Voeg een review toe!
Specificaties
Laagste prijs
€403,69
Breedte
217
Connectiviteitstechnologie
Wired
Diepte
130
Externe adapter
Ja
Gebruiksaanwijzing
Ja
Gewicht
1700
Harde schijf, omvang
3.5
Hoeveelheid Thunderbolt ports
2
Hoogte
60
Kleur van het product
Silver
Meegeleverde kabels
Thunderbolt
USB
Merk
LaCie
Ondersteunde beveiligingsalgoritmen
256-bit AES
Ondersteunt Mac-besturingssysteem
Mac OS X 10.10 Yosemite
Mac OS X 10.11 El Capitan
Mac OS X 10.8 Mountain Lion
Mac OS X 10.9 Mavericks
Ondersteunt Windows
Windows 7 Enterprise
Windows 7 Enterprise x64
Windows 7 Home Basic
Windows 7 Home Basic x64
Windows 7 Home Premium
Windows 7 Home Premium x64
Windows 7 Professional
Windows 7 Professional x64
Windows 7 Starter
Windows 7 Starter x64
Windows 7 Ultimate
Windows 7 Ultimate x64
Windows 8
Windows 8 Enterprise
Windows 8 Enterprise x64
Windows 8 Pro
Windows 8 Pro x64
Windows 8 x64
Opslagcapaciteit harde schijf
6000
Overdrachtssnelheid
220
Rotatiesnelheid harde schijf
7200
SSD-ondersteuning
Ja
Soort apparaat
HDD
Stroomvoorziening via USB
Nee
Thunderbolt technologie
Ja
Thunderbolt-versie
2
USB-aansluiting
Ja
USB-connectortype
USB Type-A
USB-versie
3.0 (3.1 Gen 1)
Veiligheidsfunties
Vibration proof
Wachtwoordbeveiliging
Ja
Product
d2
Code
STEX6000200
EAN / GTIN
7636490075186, 0763649087862
Informatiebron
"AS IS" by Icecat.biz