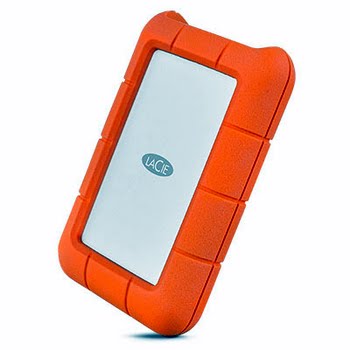 The LaCie® Rugged® USB-C portable drive marries rugged durability with cutting-edge USB-C. The result is a vault for your data that's compatible with next-gen computers like the Apple Macbook, as well as USB computers. Featuring the market's highest storage capacity for its size, the ...
Alle LaCie Rugged USB-C USB Type-C 3.1 (3.1 Gen 2) 4000GB Oranje, Zilver prijzen vergelijken
Reviews
Voeg een review toe!
Specificaties
Laagste prijs
€248,55
Breedte
86
Breedte verpakking
120
Diepte
26
Diepte verpakking
54
Gebruiksaanwijzing
Ja
Gewicht
400
Gewicht verpakking
500
Harde schijf, omvang
2.5
Hoogte
135.1
Hoogte verpakking
186
Kleur van het product
Orange
Silver
Mac-compatibiliteit
Ja
Meegeleverde kabels
USB Type-C
Merk
LaCie
Ondersteunt Mac-besturingssysteem
Mac OS X 10.5 Leopard
Mac OS X 10.6 Snow Leopard
Mac OS X 10.7 Lion
Mac OS X 10.8 Mountain Lion
Mac OS X 10.9 Mavericks
Ondersteunt Windows
Windows 10 Education
Windows 10 Education x64
Windows 10 Enterprise
Windows 10 Enterprise x64
Windows 10 Home
Windows 10 Home x64
Windows 10 Pro
Windows 10 Pro x64
Windows 7 Enterprise
Windows 7 Enterprise x64
Windows 7 Home Basic
Windows 7 Home Basic x64
Windows 7 Home Premium x64
Windows 7 Professional
Windows 7 Professional x64
Windows 7 Starter
Windows 7 Starter x64
Windows 7 Ultimate
Windows 7 Ultimate x64
Windows 8
Windows 8 Enterprise
Windows 8 Enterprise x64
Windows 8 Pro
Windows 8 Pro x64
Windows 8 x64
Windows 8.1
Windows 8.1 Enterprise
Windows 8.1 Enterprise x64
Windows 8.1 Pro
Windows 8.1 Pro x64
Windows 8.1 x64
Opslagcapaciteit harde schijf
4000
Overdrachtssnelheid
5
Rotatiesnelheid harde schijf
5400
Soort apparaat
HDD
Stroomvoorziening via USB
Ja
Thunderbolt technologie
Nee
USB-aansluiting
Ja
USB-connectortype
USB Type-C
USB-versie
3.1 (3.1 Gen 2)
Veiligheidsfunties
Crash proof
Splash proof
Wi-Fi
Nee
Product
Rugged USB-C
Code
STFR4000800
EAN / GTIN
3660619400164, 0763649111697
Informatiebron
"AS IS" by Icecat.biz