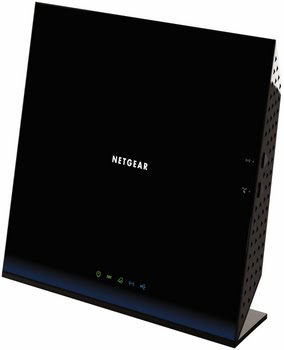 The Netgear D6200 WiFi Modem Router delivers next generation WiFi at 300+867 Mbps speeds. With a built-in ADSL2+ modem, it creates a high-speed Internet gateway with speeds up to 3x faster than 802.11n. The D6200 with simultaneous dual band enables HD streaming and is ideal for larger ...
Alle Netgear D6200 Dual-band (2.4 GHz / 5 GHz) Gigabit Ethernet Zwart draadloze router prijzen vergelijken
Reviews
Voeg een review toe!
Specificaties
Laagste prijs
€142,00
3G
Nee
4G
Nee
ADSL2+
Ja
Aansluiting voor netstroomadapter
Ja
Aantal Ethernet LAN (RJ-45)-poorten
4
Aantal USB-aansluitingen
1
Bekabelingstechnologie
10/100/1000Base-T(X)
Breedte
255
Certificering
RoHS
Diepte
77
Ethernet LAN
Ja
Ethernet LAN, data-overdrachtsnelheden
10
100
1000
Ethernet WAN
Ja
Firewall
NAT, SPI
Flash memory
128
Gewicht
654
Hoogte
205
Inclusief AC-adapter
Ja
Interfacetype Ethernet LAN
Gigabit Ethernet
Intern geheugen
128
Kleur van het product
Black
Meegeleverde kabels
LAN (RJ-45)
Merk
Netgear
Mobiele netwerkverbinding
Nee
Netwerkstandaard
IEEE 802.11a
IEEE 802.11ac
IEEE 802.11b
IEEE 802.11g
IEEE 802.11n
Ondersteunde WLAN data-overdrachtsnelheden
300
867
Ondersteunde beveiligingsalgoritmen
WPA
WPA2-PSK
WPS
Ondersteunt Linux
Ja
Ondersteunt Mac-besturingssysteem
Ja
Ondersteunt Windows
Windows 2000
Windows 2000 Professional
Windows 7 Home Basic
Windows 7 Home Basic x64
Windows 7 Home Premium
Windows 7 Home Premium x64
Windows 7 Professional
Windows 7 Professional x64
Windows 7 Starter
Windows 7 Starter x64
Windows 7 Ultimate
Windows 7 Ultimate x64
Windows 8
Windows 8 Enterprise
Windows 8 Enterprise x64
Windows 8 Pro
Windows 8 Pro x64
Windows 8 x64
Windows Vista Business
Windows Vista Business x64
Windows Vista Enterprise
Windows Vista Enterprise x64
Windows Vista Home Basic
Windows Vista Home Basic x64
Windows Vista Home Premium
Windows Vista Home Premium x64
Windows Vista Ultimate
Windows Vista Ultimate x64
Windows XP Home
Windows XP Home x64
Windows XP Professional
Windows XP Professional x64
Quality of Service (QoS)
Ja
RJ-11 ports kwantiteit
1
Rack-montage
Nee
Snelstartgids
Ja
Soort antenne
internal
USB-versie
2.0
WLAN gegevensoverdrachtsnelheid (max)
867
Web-gebaseerd management
Nee
Wi-Fi-standaarden
IEEE 802.11a
IEEE 802.11ac
IEEE 802.11b
IEEE 802.11g
IEEE 802.11n
Wifi-band
Dual-band (2.4 GHz / 5 GHz)
Wifi-standaard
IEEE 802.11ac
xDSL-verbinding
Ja
Product
D6200
Code
D6200B-100GRS
EAN / GTIN
0606449094527, 0606449095845
Informatiebron
"AS IS" by Icecat.biz