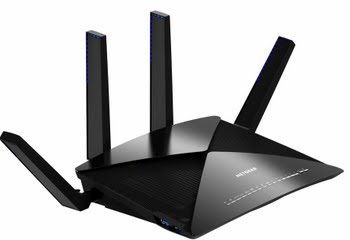 Ultimate 4K Streaming serve all your media with the Plex media server on your Nighthawk X10, without need for a computer. Powerful 1.7GHz Quad-Core Processor - Performance at its ultimate level – for better 4K streaming, VR gaming, surfing, or anything you throw at it. - Gigabit CPU, ...
Alle Netgear Nighthawk X10 Dual-band (2.4 GHz / 5 GHz) Gigabit Ethernet Zwart prijzen vergelijken
Alternate
Op werkdagen voor 22.00 besteld, morgen in huis!
€389,00
Bekijk
Paradigit
Op werkdagen voor 23:30 uur besteld, morgen in huis

-20%

€399,00
Bekijk
Informatique
1
€399,00
Bekijk
4Launch.nl
Voor 17:00 besteld, morgen in huis!
€420,00
Bekijk
Reviews
Voeg een review toe!
Specificaties
Laagste prijs
€389,00
Korting
Ja
Kortingspercentage
Tot 20%
Korting bij
Paradigit
3G
Nee
3G/4G USB modem compatibiliteit
Nee
4G
Nee
Aan/uitschakelaar
Ja
Aansluiting voor netstroomadapter
Ja
Aantal Ethernet LAN (RJ-45)-poorten
7
Aantal poorten USB 3.0 (3.1 Gen 1) Type A
2
Aantal processorkernen
4
Antennas quantity
4
Bekabelingstechnologie
10/100/1000Base-T(X)
Breedte
224
DSL WAN
Nee
Diepte
168
Ethernet LAN
Ja
Ethernet LAN, data-overdrachtsnelheden
10
100
1000
Ethernet WAN
Ja
Frequentie van processor
1700
Gewicht
1865
Hoogte
74
Inclusief AC-adapter
Ja
Interfacetype Ethernet LAN
Gigabit Ethernet
Kleur van het product
Black
Meegeleverde kabels
LAN (RJ-45)
Merk
Netgear
Netwerkstandaard
IEEE 802.11ac
IEEE 802.11ad
Ondersteunde beveiligingsalgoritmen
WPA
WPA2
WPA2-PSK
Ondersteunt Linux
Ja
Ondersteunt Mac-besturingssysteem
Ja
Ondersteunt Windows
Windows 10 Education
Windows 10 Education x64
Windows 10 Enterprise
Windows 10 Enterprise x64
Windows 10 Home
Windows 10 Home x64
Windows 10 Pro
Windows 10 Pro x64
Windows 2000
Windows 2000 Professional
Windows 7 Enterprise
Windows 7 Enterprise x64
Windows 7 Home Basic
Windows 7 Home Basic x64
Windows 7 Home Premium
Windows 7 Home Premium x64
Windows 7 Professional
Windows 7 Professional x64
Windows 7 Starter
Windows 7 Starter x64
Windows 7 Ultimate
Windows 7 Ultimate x64
Windows 8
Windows 8 Enterprise
Windows 8 Enterprise x64
Windows 8 Pro
Windows 8 Pro x64
Windows 8 x64
Windows Vista Business
Windows Vista Business x64
Windows Vista Enterprise
Windows Vista Enterprise x64
Windows Vista Home Basic
Windows Vista Home Basic x64
Windows Vista Home Premium
Windows Vista Home Premium x64
Windows Vista Ultimate
Windows Vista Ultimate x64
Windows XP Home
Windows XP Home x64
Windows XP Professional
Windows XP Professional x64
Producttype
Tabletop router
SIM-kaartsleuf
Nee
Snelstartgids
Ja
Soort antenne
External
Type processor
Ja
Type stroombron
AC
USB-poort
Ja
WLAN gegevensoverdrachtsnelheid (max)
7200
Wi-Fi-standaarden
IEEE 802.11ac
IEEE 802.11ad
Wifi-band
Dual-band (2.4 GHz / 5 GHz)
Wifi-standaard
IEEE 802.11ac
Product
Nighthawk X10
Code
R9000-100PES
EAN / GTIN
0606449114669
Informatiebron
"AS IS" by Icecat.biz