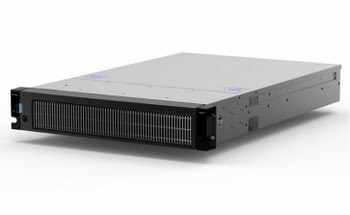 ReadyNAS 3312 and 4312X are powered by a 5th generation Intel Xeon Enterprise Server Processor. The RR4312X has two built-in 10Gigabit Ethernet interfaces to meet the throughput speed of next generation network in businesses of all sizes. Application data, virtual images, client files, ...
Alle Netgear ReadyNAS 4312S NAS Rack (2U) Ethernet LAN Zwart prijzen vergelijken
Reviews
Voeg een review toe!
Specificaties
Laagste prijs
€10,16
AC invoer frequentie
50/60
AC invoer voltage
100-240
Aan/uitschakelaar
Ja
Aantal Ethernet LAN (RJ-45)-poorten
4
Aantal eSATA-poorten
2
Aantal gebruikers
8192
Aantal opslagkaarten ondersteund
12
Aantal poorten USB 3.0 (3.1 Gen 1) Type A
2
Aantal processorkernen
4
Aantal storage drives geïnstalleerd
4
Aantal ventilatoren
3
Access Control List (ACL)
Ja
Back-up-eigenschappen
Cloud
Backup-functie
Ja
Breedte
445
Capaciteit opslag-drive
4000
Capaciteit voedingsunit (PSU)
550
Certificering
FCC, CE, VCCI
DHCP client
Ja
Diepte
707
Ethernet LAN
Ja
Ethernet LAN, data-overdrachtsnelheden
10
100
1000
10000
Fibre channel-poorten
2
Flash memory
256
Frequentie van processor
3.5
Gedeelde map
1024
Geluidsniveau
30
Gewicht
11960
Geïnstalleerde opslag-drive
SSD
Hoogte
88
Hot-spare
Ja
Hot-swap drive bays
Ja
Ingebouwde BitTorrent client
Ja
Ingebouwde UPnP™ AV -mediaserver
Ja
Ingebouwde iTunes-server
Ja
Intern RAM type
DDR4
Interne RAM
16
Jumbo Frames ondersteuning
Ja
Kleur van het product
Black
LED-indicatoren
Ja
Maximaal ondersteunde opslagcapaciteit
120
Mean time between failures (MTBF)
159519
Merk
Netgear
Netwerktijdprotocol (NTP) klant
Ja
Onbalanscontrolesysteem
Ja
Ondersteund maximum RAM
128
Ondersteunde bestandsystemen
FAT32
HFS+
NTFS
ext3
ext4
Ondersteunde browser
Microsoft Internet Explorer 9+, Mozilla Firefox 14+, Google Chrome 20+, Apple Safari 5+
Ondersteunde netwerkprotocollen
TCP/IP, HTTP, HTTPS, FTP, SSH
Ondersteunde server operating systems
Windows Server 2008
Windows Server 2008 R2
Windows Server 2012
Ondersteunde types opslag-drives
SSD
Ondersteunt Linux
Ja
Ondersteunt Mac-besturingssysteem
Ja
Ondersteunt Windows
Windows 10 Education
Windows 10 Education x64
Windows 10 Enterprise
Windows 10 Enterprise x64
Windows 10 Home
Windows 10 Home x64
Windows 10 Pro
Windows 10 Pro x64
Windows 7 Enterprise
Windows 7 Enterprise x64
Windows 7 Home Basic
Windows 7 Home Basic x64
Windows 7 Home Premium
Windows 7 Home Premium x64
Windows 7 Professional
Windows 7 Professional x64
Windows 7 Starter
Windows 7 Starter x64
Windows 7 Ultimate
Windows 7 Ultimate x64
Windows 8
Windows 8 Enterprise
Windows 8 Enterprise x64
Windows 8 Pro
Windows 8 Pro x64
Windows 8 x64
Windows 8.1
Windows 8.1 Enterprise
Windows 8.1 Enterprise x64
Windows 8.1 Pro
Windows 8.1 Pro x64
Windows 8.1 x64
Opslag schijf-interface
Serial ATA III
Opslagdrives geïnstalleerd
Ja
Processorfamilie
Intel Xeon E3 v5
Processormodel
E3-1245V5
RAID support
Ja
Relatieve luchtvochtigheid, in bedrijf
20 - 80
RoHS compliance
Ja
S.M.A.R.T. support
Ja
Soort
NAS
Soorten RAID
0
1
5
6
10
JBOD
Systeemlog
Ja
Temperatuur, in bedrijf
0 - 40
Toegangsrechtenbeheer voor gedeelde mappen
Ja
Totale geïnstalleerde opslagcapaciteit
16000
Type behuizing
Rack (2U)
Type koeling
Active
USB
Ja
Ventilator diameter
80
Vermogenstoevoer locatie
Built-in
Vezel-optische connector
SFP+
Web-gebaseerd management
Ja
Wi-Fi
Nee
iSCSI support
Ja
Product
ReadyNAS 4312S
Code
RR4312S4-10000S
EAN / GTIN
0606449116106
Informatiebron
"AS IS" by Icecat.biz