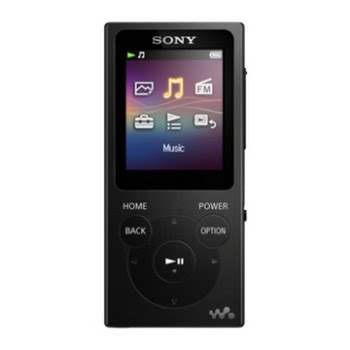 This lightweight Walkman® can play MP3s for up to 50 hours between charges, and with a simple drag and drop interface it's easy to load up all your music. The easy-to-use controls let you find the right song, view photos and tune the radio in seconds.
Alle Sony Walkman NW-E393B MP4 4GB Zwart prijzen vergelijken
Expert
Voor 21:00 besteld, volgende werkdag in huis

-7%

€84,00
Bekijk
Media Markt
Voor 23:59 uur besteld, morgen in huis.
€84,00
Bekijk
Wehkamp
uitverkocht
€89,99
Bekijk
Reviews
Voeg een review toe!
Specificaties
Laagste prijs
€84,00
Korting
Ja
Kortingspercentage
Tot 7%
Korting bij
Expert
Aantal banden equalizer
5
Accu/Batterij oplaadtijd
2
Afspeel modi
Normal
Repeat
Repeat one
Shuffle
Backlight
Ja
Beeldscherm
TFT
Beeldscherm, aantal kleuren
65536 colours
Beeldschermdiagonaal
1.77
Breedte
42.4
Continue audio-afspeeltijd
35
Diepte
9.1
Equalizer modus
Custom
Jazz
Pop
Equalizer-instellingen
Ja
FM-band
87.5 - 108
FM-radio
Ja
Gebruiksaanwijzing
Ja
Gewicht
39
Hoogte
92
Ingebouwde camera
Nee
Ingebouwde luidsprekers
Ja
Ingebouwde microfoon
Ja
Interface
USB 2.0
Kleur van het product
Black
Koptelefoon
Ja
Meegeleverde kabels
USB
Merk
Sony
Ondersteund audioformaat
AAC
MP3
MP4
PCM
WMA
Ondersteund beeldformaat
JPG
Ondersteunde frequentiebanden
FM
Ondersteunde talen
CHI (SIMPL)
CHI (TR)
DEU
ENG
ESP
FRE
ITA
JPN
KOR
POL
POR
RUS
TUR
Ondersteunt Mac-besturingssysteem
Mac OS X 10.6 Snow Leopard
Ondersteunt Windows
Windows 7 Enterprise
Windows 7 Enterprise x64
Windows 7 Home Basic
Windows 7 Home Basic x64
Windows 7 Home Premium
Windows 7 Home Premium x64
Windows 7 Professional
Windows 7 Starter
Windows 7 Starter x64
Windows 7 Ultimate
Windows 7 Ultimate x64
Windows 8
Windows 8 Enterprise
Windows 8 Enterprise x64
Windows 8 Pro
Windows 8 Pro x64
Windows 8 x64
Windows Vista Business
Windows Vista Business x64
Windows Vista Enterprise
Windows Vista Enterprise x64
Windows Vista Home Basic
Windows Vista Home Premium
Windows Vista Home Premium x64
Windows Vista Ultimate
Windows Vista Ultimate x64
Windows XP Home
Windows XP Home x64
Windows XP Professional
Windows XP Professional x64
Oplaadbaar
Ja
Picture viewer
Ja
Resolutie
128 x 160
Snelstartgids
Ja
Soort
MP4
Soort antenne
Headphone/Earphone cord
Stemopname
Ja
Temperatuur, in bedrijf
5 - 35
Totale opslagcapaciteit
4
Touchscreen
Nee
Tweede camera
Nee
Type aansluitplug
3.5 mm
Type opslagmedium
Flash-media
Volumeregeling
Digital
Product
NW-E393B
Code
NWE393B
EAN / GTIN
Ean
4548736015135
Model
NWE393 4 GB Zwart
Informatiebron
"AS IS" by Icecat.biz